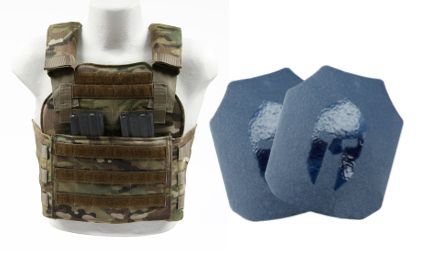 CLICK HERE TO PURCHASE
***Please allow up to 3 weeks for your armor to ship. Just 40 units in stock, with limited plate carrier colors. Once they're gone, they're gone! We've been working with Beez Combat Systems for years now, and like us, their vision is to provide innovative top-tier gear that will outlive you. They have done just that. The NEW BCS/Spartan AR500 Armor and Ar550 Armor plate carrier allows the operator to hold their magazines firmly without the excess drag and weight of an external rig.
Retail $211.97
MODULAR web attachment points on entire vest for maximum versatility.
Velcro for Name tape,ID, blood type…etc.
Bottom load design secures the plate in the pocket.
Full cumberbund.
2 mag kangaroo pouch.
Shoulder pads included!
PC Pads Included! (vertical pads provide additional comfort and airflow)
The carrier is made out of 1000D cordura, which is very abrasion resistant.
Reinforced drag handle.
This carrier does NOT come with side plate pouches. Side plate pouches are available from Beez Combat Systems directly for approximately $23.
This limited offering package deal comes with our Patent-Pending Spartan Advanced Triple Curve (ATC) AR550 Armor with a full coating of our industry-leading frag mitigation coating. We've been doing this longer than anyone else in the industry, and with certainty, our coating far outperforms the competition. Our AR550 armor hits the "sweet spot" in the Brinnell Hardness (BHN) range. With a core hardness of approximately 545-560 BHN, we have found our ballistically rated variant of AR550 that we use is perfect for defeating higher velocity threats, while not exposing the armor plate to extreme stress due to forming.
Advanced Triple Curve (ATC) AR550 Spartan Body Armor. An industry FIRST! Spartan Armor Systems™ is proud to be the FIRST in the industry to commercially offer triple-curved AR550 body armor. With higher velocity rifle threats commonly present throughout the United States, we've developed this AR550 armor to specifically defeat some common threats such as 5.56 x 45 XM193, 5.56 x 45 M855 /SS109 and 7.62 x 51 (.308 Winchester) at a rated velocity of 3,100 fps or less. Additionally, we've successfully defeated these threat profiles from Close Quarters Battle (CQB) distances…repeatedly!
Retail $278.99
10″x12″ Advanced Triple Curve AR550 Armor
Trademark Spartan Logo embedded on to the front of the plate
Learn more about the plates here.