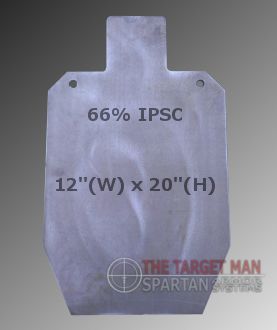 CLICK HERE
to purchase!
Attention Calguns! We're running this popular special again for our valued customers. This is a 4th of July promotion we're running! You can purchase either 1, 2, or 3 of the 66% IPSC targets and we're also throwing in a free t-shirt (see product link for limitations/disclaimer).
Our 3/8" AR500 targets are capable of handling any ball ammo traveling 3200 FPS or less from 100 yards or more. We regularly shoot .223 and .308 at our targets and you can realistically expect thousands upon thousands of impacts out of each target before they reach fatigue. We have targets with tens of thousands of impacts and they look great!
We have a decent amount of each shirt size in stock. However, if we run short of your particular size, you may receive the next size up or down. We don't foresee any issues though with you receiving the correct t-shirt size.
QTY 1 + Shirt $72.99
QTY 2 + Shirt $136.99
QTY 3 + Shirt $195.99
** Add $2 for 2XL shirt sizes **
Remember, all of our prices include our popular
FREE SHIPPING
and
NO SALES TAX
since these are coming from AZ! This product is scheduled to be cut the week of July 7 as our steel supply is coming in July 3. ALL orders should be shipped no later than July 11.
This is a great buy and we hope you take advantage of this special we're offering. Thanks for putting your trust in The Target Man, LLC.