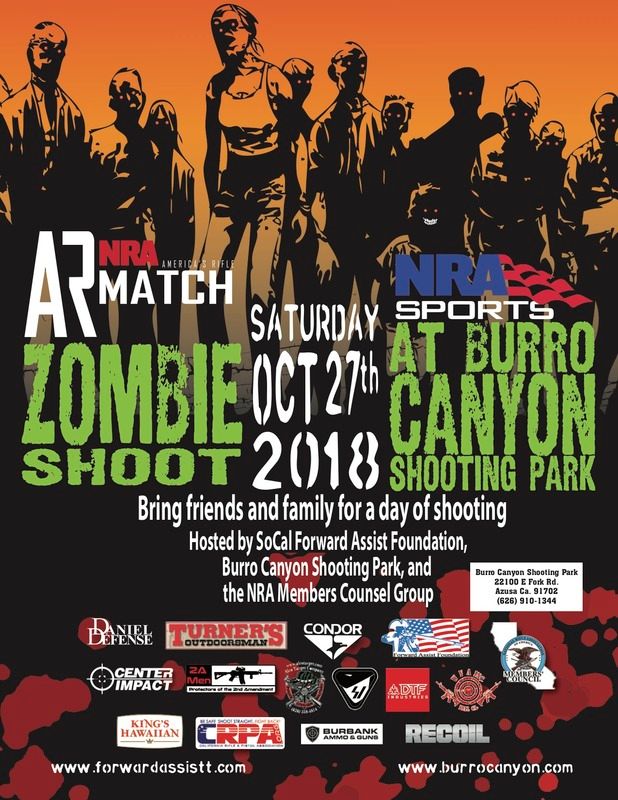 Come out for a day of fun, meet & greet you local NRA members councils & find out how you can get involved. Visit the Turners booth for exclusive discounts & deals. Talk with local manufacturer reps that support California shooters. ARM hosted by SoCal Forward Assist Foundation is a 4 stage AR or MSR (modern sporting rifle) competition. Each stage is a different obstacle course, CA 10rd Magazine friendly. And it's only $42!
Did I mention Zombies?!
Participate in the competition or just come and watch. Bring the family Oct 27th and you can shoot at the public rifle or pistol range $2 off general admission for the public ranges. (check in at the NRA Sports Day booth for coupon)
Tons of Prize giveaways at the Random Raffle (you don't have to compete to get in the raffle) All competitors get 1x free raffle ticket. Prizes and trophies for the winners of the competition, Also 4-man Team division. Bring your friends! Wear a costume! Costume welcomed just NO Real weapons as your costume accessory. You can shoot in costume in the Match!!!
For more info go to:
www.forwardassistt.com
or email:
info@forwardassistt.com
call: 310-528-3688
Date: October 27th 9am to 3pm
Please: Burro Canyon in Azusa
Fee: $42 for competition. spectating & parking FREE