Quote:
Originally Posted by
Paladin
Historically, other than VT, states have gone from Shall Issue CCW to Constitutional Carry. Once people are comfortable carrying with a permit they're more open to carrying without a permit.
"Facts are stubborn things."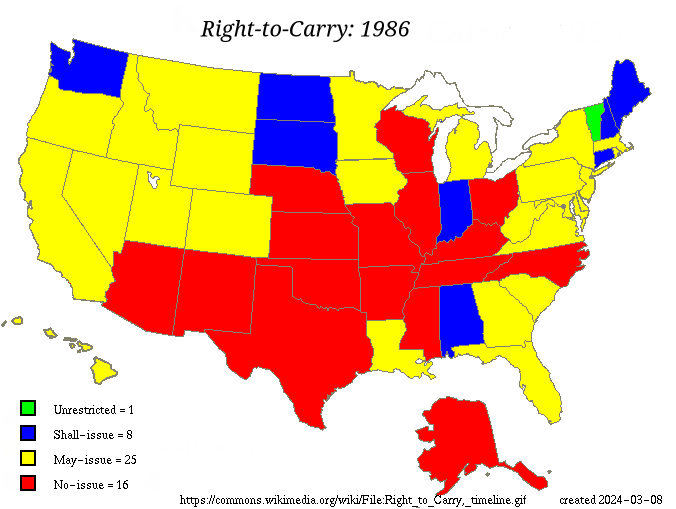 ETA: my apologies: I see you are on my Ignore List. I must have hit reply before logging in, that's why I read your … post. Goodbye.
Right on sue, puts out some image about the rest of the country when we're talking about California. So typical, look there not here.
Facts are indeed stubborn things, especially when used to misdirect.
Once people are comfortable carrying with a CCW they do not then support the right to carry and you are living proof. You just proposed getting millions to carry via a CCW as a privilege. What are you going on about?
You are taking some credit for what happened all over the country except for California? Thats rich.
If people, once they've become more comfortable with a CCW then go on to support the right then why isn't that true in California where you yourself promote the CCW privilege? Why then is it that any time another approach to get people involved in something other than the status quo are you first in line to say it won't work?
Why equate carrying a gun to drugs? People are going to get addicted to carrying a gun? Thats a good one.
Why is it that after Bruen now letters have to be sent to try and get Sherriff's to issue in California? New flash, more and more people are realizing the status quo and go along to get less -we know what we're doing crowd have been selling a lot of smoke. Time are changing.
You know one of the oldest internet forum sayings? "I put you on ignore but must have saw your post before I logged on". Oh really? How did you manage to post back without logging on, you couldn't ignore it could you? The games people play.
.