I have both dedicated .22 lr uppers from Model 1 Sales 16" and Spikes Tactical 16" M4 upper. The Spike's finish more closerly matches the Sabre Defense .22lr lowers from Lan World. To my surprise, they are both identical in length, even though Spike's advertises that their 16" barrel will appear more like the 14.5" 5.56 bbl. I compared it next to an LMT 14.5", and it definately does not appear shorter. Looks the same as any other 16" M4 barrel that you will see on an AR. My friend also ordered the 16" from M1Sales, so I was able to compare 2 of those against my 1 Spike's.
Model 1 did have some things I liked about it better than Spikes. First, they were a bit cheaper. 2nd, I got an A2 flash hider on my bbl (versus A1 on Spike's) and their top rail T #s were colored in white on 1 of the uppers (but not on the other). My Spikes also didn't come with a forward sling attachment, and the M1S did.
All that said, I will still order my next upper from Angela at Spike's Tactical!
Angela is simply the best to work with, very helpful, friendly and great customer care. Spike's Tactical shipped when they said they would, and was very upfront during the entire process (there's a backlog on ceiner bolts). Spike's came with M4 handguards, the M1S came with standard hangduards, both were single lined) Spike's overall fit and finish take a slight edge compared to M1S. (The Spike's .22lr upper had a really tight fit of the ceiner carrier, while the M1Sales ceiner bolt slid out with little resistance on one, and was a little tighter on the other.) M1S uppers are not bad at all, but the finish will not match your Sabe Defense .22lr lower as closely as Spike's will (if that's the one you're getting).
Lastly, the Sabre Defense .22lr lowers are pretty slick. Chris at Lan World did a great job at getting these made. Fit and finish is tight, and assembly went together without any issues. The only thing about them that I didn't like was the cheesy dot-matrix lettering on the lowers.
If you're looking to build a dedicated .22lr so you can shoot for a little cheaper (like I am), then this is the way to go. Also, my tiny 100lb wife enjoys shooting this plinker much more than some of my other rifles. Uppers both functioned fine with WalMart Federal bulk pack .22lr.
Sabre Defense .22lr Lower w/Spike's Tactical .22 M4 16" upper: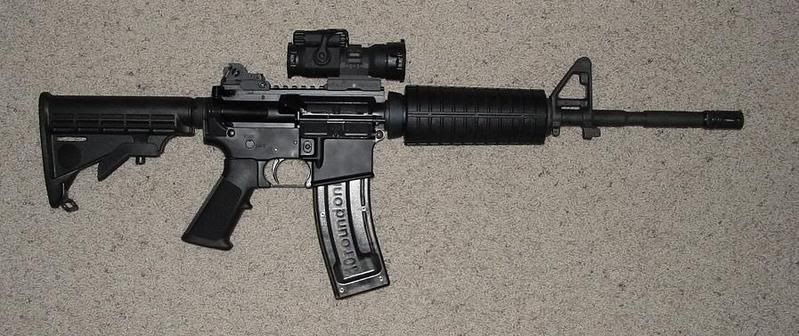 Receiver: