05-23-2013, 8:07 PM
Member

Join Date: Mar 2011

Location: Orange County

Posts: 254
Another Review of our SI Cobra Barrel Extension with a Fat Comp 01!
---
An excellent review of our SI Cobra Barrel Extension with a Fat Comp 01! Thanks again!
Original Post
Quote:
Strike Industries Cobra Dummy Suppressor w/Comp Install/Review by user JassonVoorhees on weapon-owners.com!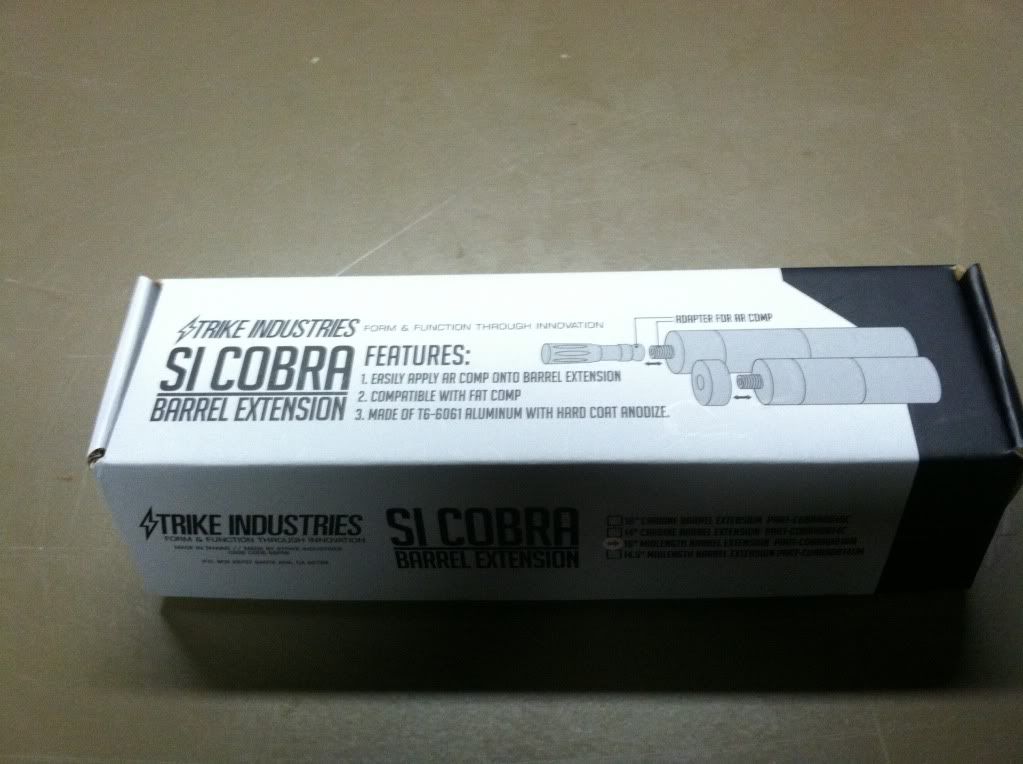 We will be installing and reviewing the Strike Industries Cobra Dummy Suppressor (16" Midlength Barrel Extension)
This is what comes in the box.




First you will need to remove your stock muzzle break from your rifle if you have one attached, and crush washer.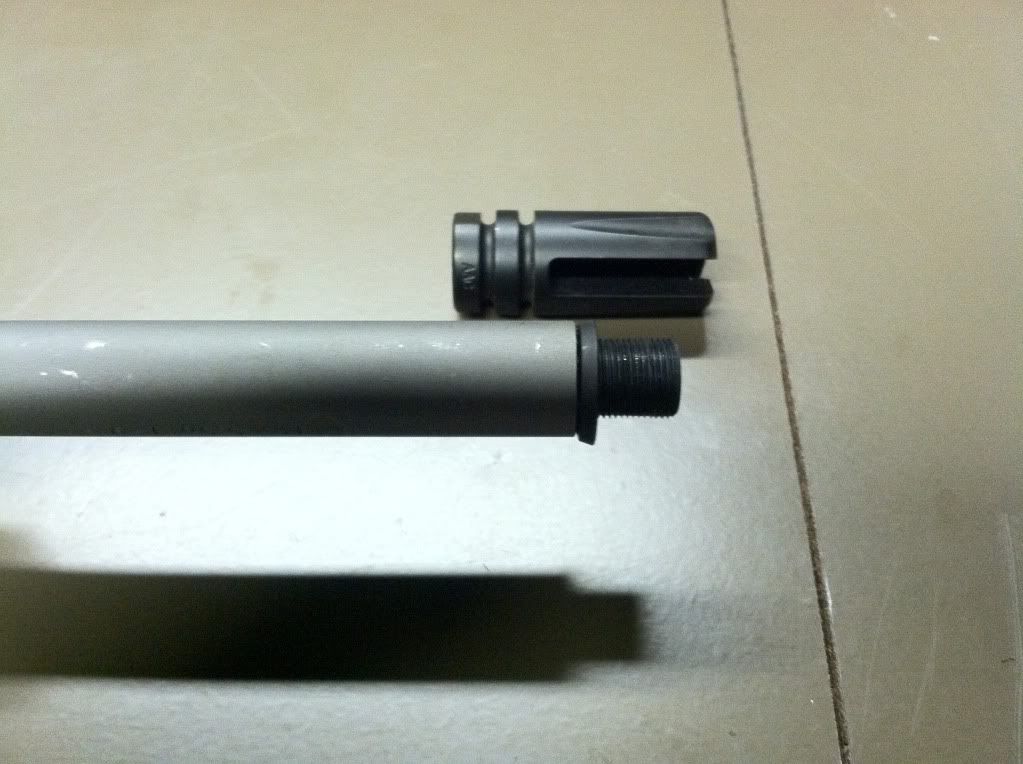 If you look down the Dummy Suppressor you can see the machining is very good. The Dummy Suppressor I got did NOT come with a new crush washer. This might be that you don't need to use one, but to get the dummy suppressor to line up the way I wanted and to ease my mind, I installed one. I did have to make the outside radius of the crush washer smaller by grinding the outside of the crush washer. This will allow it to fit into the dummy suppressor. I did not include pictures of this as it was a mod that I did.




All you have to do is screw on the dummy suppressor and tighten, and you are good to go or are you?




Strike Industries also makes 4 comps to work with there dummy suppressor.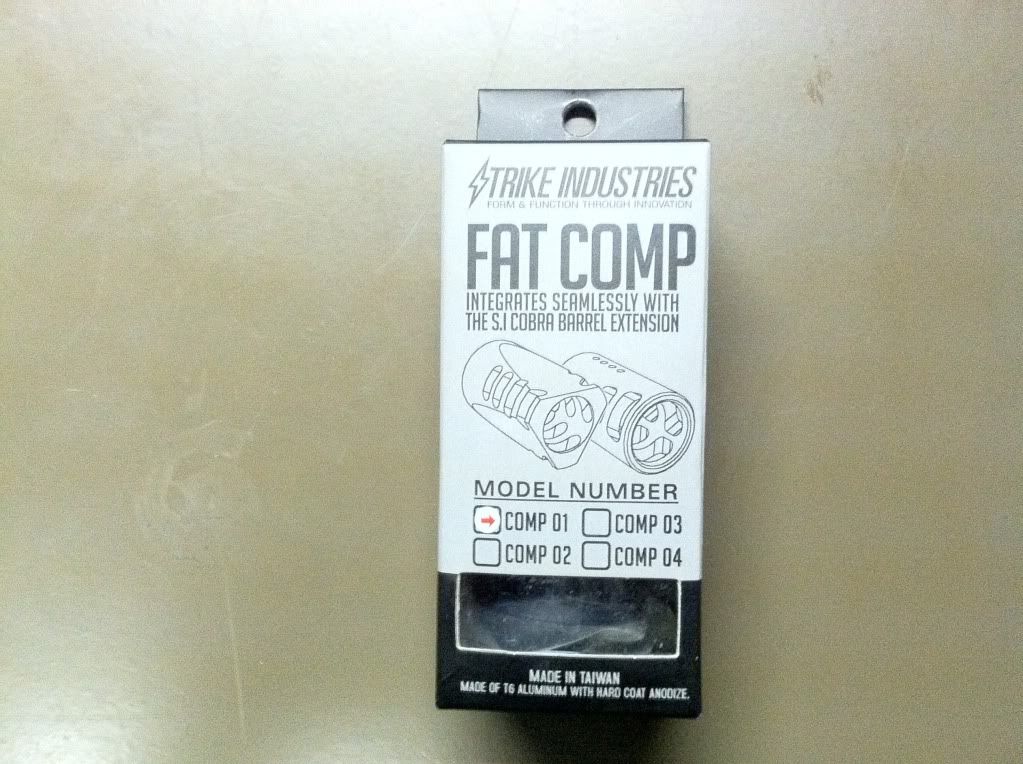 This is the Fat Camp #1. All the Strike Industries Fat Comps are flash hiders and each offers a bit different results with recoil and muzzle raise.




To install the Fat Comp on the Dummy Suppressor, simply remove the end cap off the Dummy Suppressor and screw on the Fat Comp.






So if you want to take your normal looking rifle......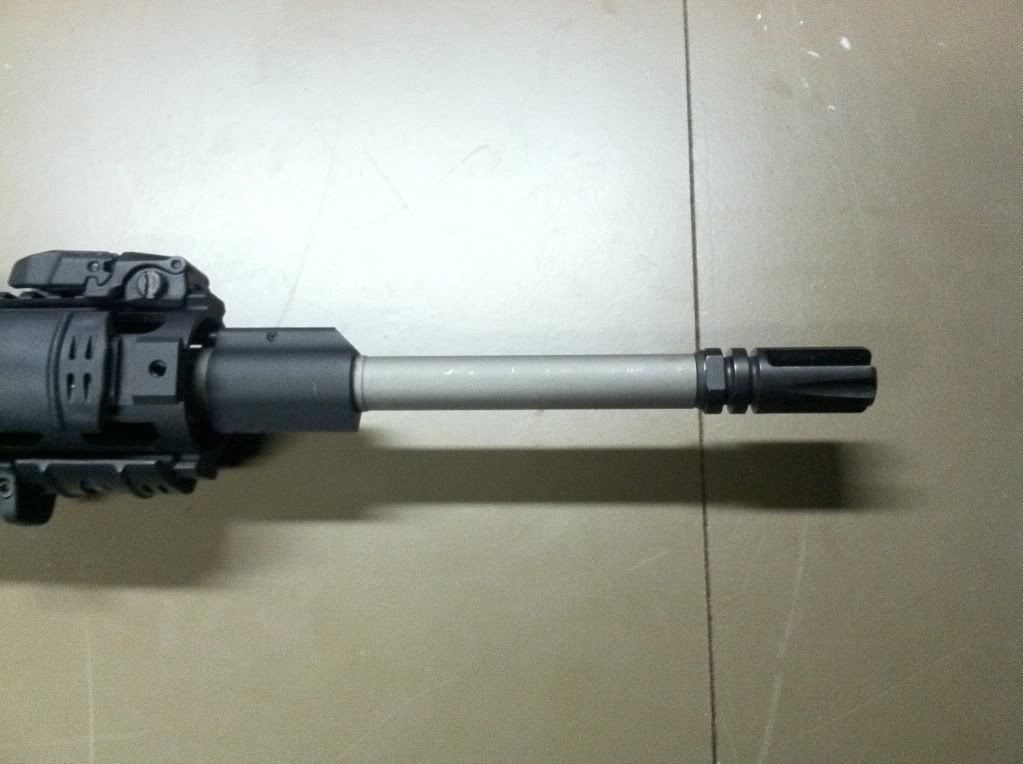 And turn into a suppressed looking rifle.......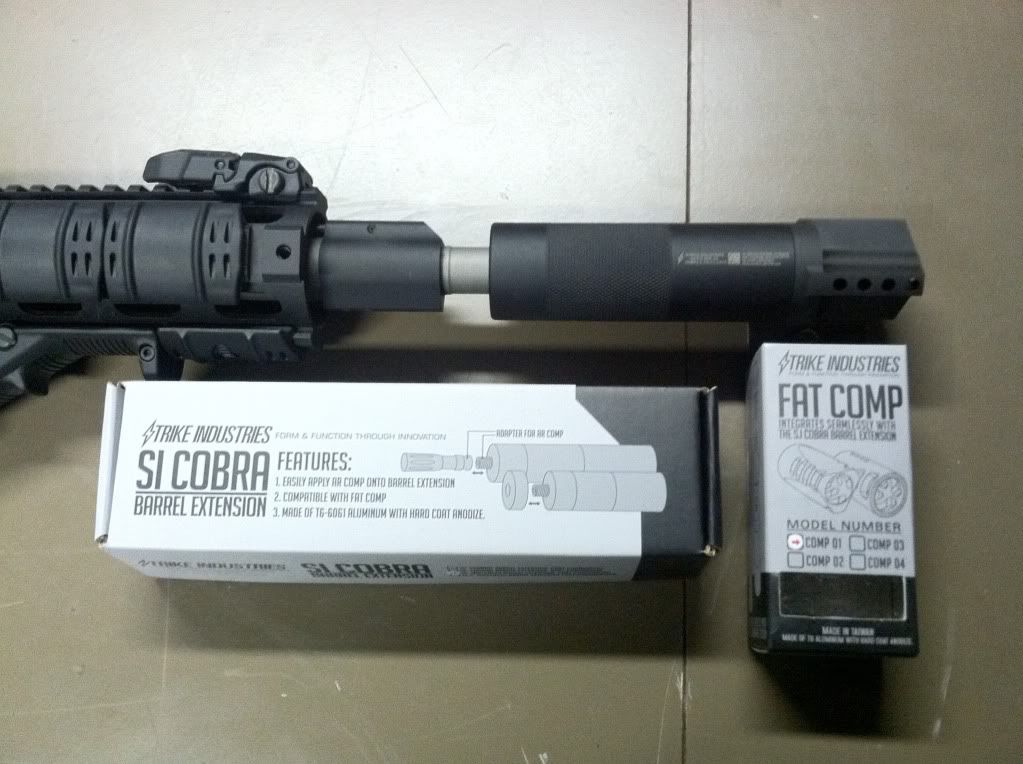 Go get yourself a Strike Industries Dummy Suppressor!

Review:

The Strike Industries Cobra Series 16" Midlength dummy suppressor is designed to fully enhance the appearance of your rifle by hiding excess barrel length. In addition, by removing the front cap, you can install any ½" x 28 AR threaded compensator for the functional purpose of reducing muzzle flash and recoil. The dummy suppressors work exceptional well with the S.I. FAT COMP which is specially designed with the same diameter as the Cobra dummy suppressor, allowing it to sit perfectly flush. The S.I. FAT COMP and Cobra dummy suppressor make for a great pairing of both style and function. The Cobra dummy suppressor is easy to install with not tools needed. The Cobra dummy suppressor adds all the look of a real suppressor, and still be legal in states that do not allow them. The Cobra dummy suppressor does add some weight, but also helps with fallow up shots, and the barrel doesn't rise as much with just a comp on the rifle end. What I did not like was that there was no directions for install nor was there a new crush washer, as this hurt its overall rating. The Price for the products is better then less quality fake suppressors, and looks more realistic. I really like the Cobra dummy suppressor and hope they make them for other models like the AK, and 308 AR's.

Key Features:
•Easily apply AR comp onto dummy suppressor
•Compatible with FAT COMP
• Made of T6-6061 Aluminum with hard coat anodize.

Length: 5 ¼"
Weight: 11.5oz
OD: 1 ½"
Thread Pitch: ½" x 28

Price: $49.99

Rating: 4.50/5 Great product, Just needs directions and crush washer.

The Fat Comp comes in four different versions and is designed to integrate seamlessly with the SI Cobra Dummy Suppressor. The FAT COMP features four different styles made to fit any desired look. Its 1.5" diameter can also fit inside most free float handguard rail systems and directly attaches to any AR barrel with a 1/2"x28 thread pitch. All FAT COMPs are made of steel and coated with a matte black finish. I like that Fact that you can use this Fat Comps with the Cobra dummy suppressor, and if you use a full length handguard, it will fit inside the handguard. The Fat Comp works great, but also did not add a lot of added noise like other comps do. The Fat Comp that I tested did help with recoil and muzzle rise. The Price of the Fat Comp is close to others offered, but does the job of others without adding the noise of others. If not paired with the Cobra Fat Comp you will need a new crush washer which is not supplied, and did hurt its score in the review, along with no directions with this product.

Product Spec
•Length: 2"
•Weight: 7.6oz
•Outer Diameter: 1 3/8''

Price: $39.95

Rating: 4.50/5 Great product, Just needs directions and crush washer.


To order your Cobra Dummy Suppressor, or Fat Comp go to there website: http://strikeindustries.com/shop/index.php/ or ask your dealer if he can order Strike Industries Products.
__________________
Santa Ana, CA -
www.strikeindustries.com
/
www.jtechgear.com
Contact us at
info@strikeindustries.com

Now available through Cheaper Than Dirt, OC Armory, Rifle Gear, LA Police Gear, Operator Outfitters, and LifeLines Adventure Gear.