*edited*
I'm sorry for mis-placing this post, thought I was posting in the non-firearms accessories section. I'd appreciate it if a mod could move this to the correct location. Thank you
Hi, all prices
include
shipping. Prefer PayPal, but USPS Money Order works too. Thanks for looking!
Due to being limited to 4 pictures per post, you can view all the pictures at:
http://s180.photobucket.com/albums/x85/MGf/
Bought this at a local gun show, more or less an impulse buy. This is a British Desert DPM shirt/uniform. Size fits medium (I wear Medium Regular), but could fit slightly larger size. Never worn outside, washed it once I got it. Great top with the usual front utility pockets along with one on the left shoulder. Buttons up along with a YKK zipper for full closure.
Item:
British Desert DPM Uniform (Top)
Condition:
Excellent
Price:
$25
This is a USGI flight crewman top/shirt which is made of a lightweight material, but provides significant insulation during the cold seasons. Has the usual zipper front closure along with velcro, and a mandarin collar secured by velcro. Also has several velcro cinching straps to tighten or loosen the fit. This is great for when working around the house during the winter, it breathes pretty good yet keeps you warm. I wore this while working around the house during the winter, the only thing I should mention is there is a small oil stain on the top right shoulder (rear). Size is Medium Regular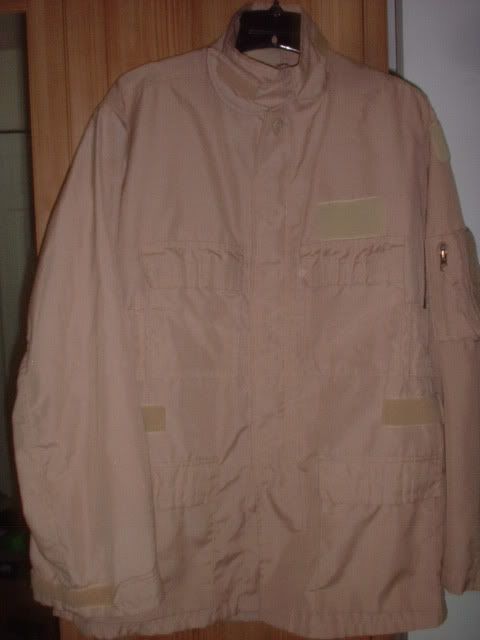 Item:
USGI Flight Crewman Shirt (Khaki)
Condition:
Good
Price:
$21
This is a USGI Flight crewman bottom/pants which is made out of the same material as the shirt above. It is the same size, Medium Regular, and unlike the shirt, has no stain or damage to it. Has multiple (8) utility pockets secured by velcro closures and two frontal zippers. Great for hunting, hiking, or work around the house. Breathable material and plenty of places to put tools, gadgets and stuff you otherwise want to keep on you.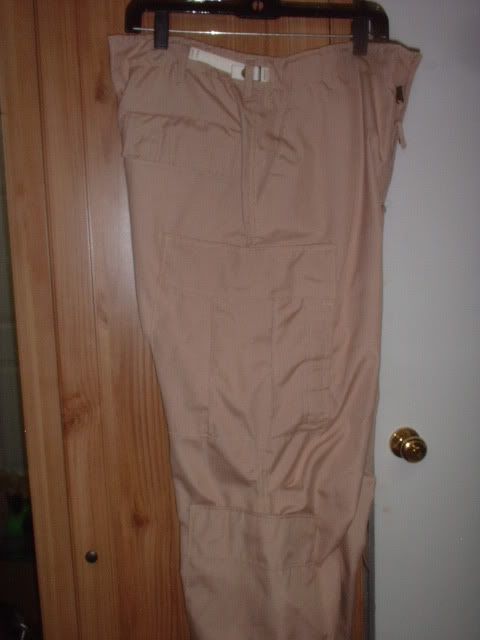 Item:
USGI Flight Crewman Pants (Khaki)
Condition:
Great
Price:
$23
This pack has seen minimal use. I took it with me to the range a couple times, but stopped since I realized I needed something a little bit bigger. Great for storing just about anything from a first aid kit, flashlight, mp3 player, keys, wallet, etc. Has a quick-release buckle on the shoulder strap, fast-tex buckle for main compartment flap, YKK zippers with 550 on them. Numerous pockets and pouches inside as well. I can take more pictures if needed. These retail for $70 plus s/h new. The only signs that this pack isn't new is the 550 on the zippers. No stains or damage to it whatsoever.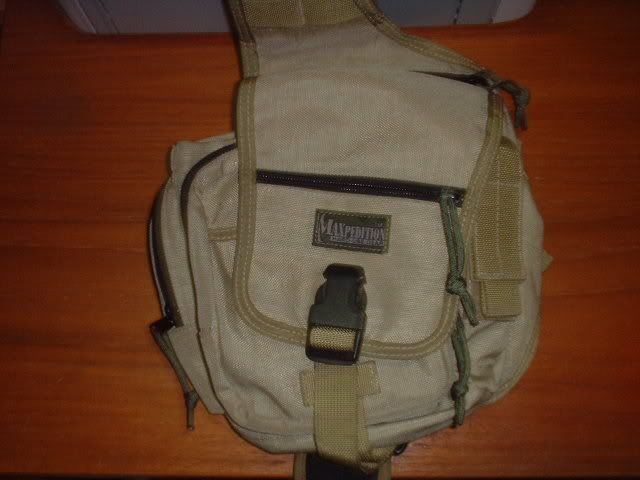 Item:
Maxpedition Fatboy Versipack (Khaki)
Condition:
Excellent
Price:
$54 shipped
Tactical Tailor Multi-Purpose pouch in OD. Spray painted with some tan krylon, some signs of wear, but no holes or damage. The Pelican 1020 case shown inside is not included, but merely to show how much it can fit inside. Great for general purpose use, includes the two MALICE long clips.
Item:
Tactical Tailor Multi-Purpose Pouch (OD)
Condition:
Good
Price:
$21