Its that time of the year!
In behalf of myself & all the staff at Forward Assist Training we would like to thank ALL the Calguns members for your support. We would like to extent a open invitation to all Calguns members to come and join us Dec 13th at Burro Canyon for our 2nd Annual Christmas shoot & toy drive.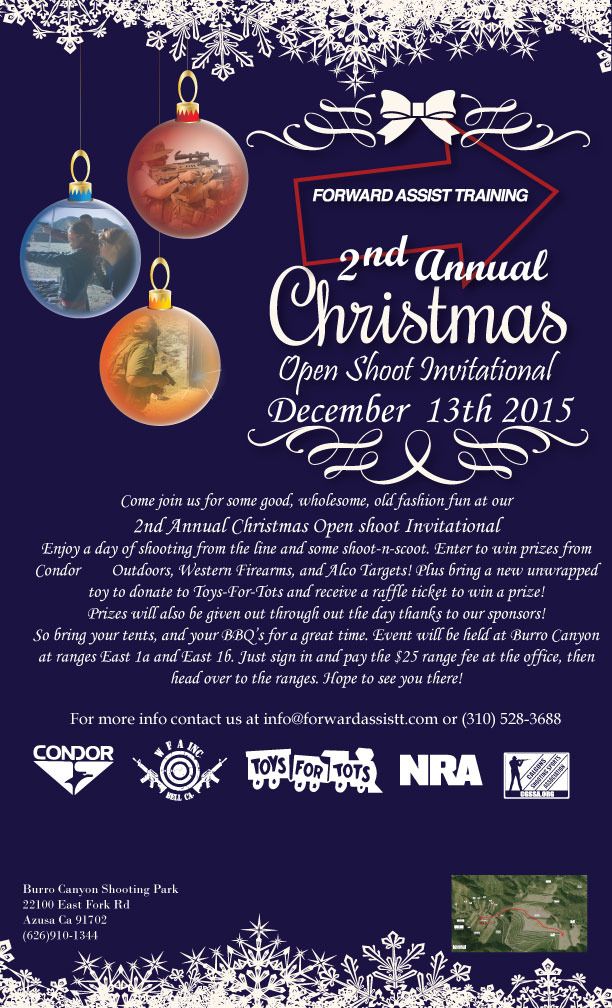 Date: Dec 13th (sunday) 9:am to 3:00pm
Location: Burro Canyon range North 1 & 2
Fee: $25 pay at the main office
Bring a "new unwrapped" toy for the Toys for Tots drive and get a raffle ticket. We will be giving away prizes though out the day, 1 every hour.
Bring your tents, table & food.
We will have a free line shoot on N1 & a small "scoot & shoot" course of fire at N2. Try it out its "FREE", you can try to run the course with any kind of gun. It's kind of a open house of our CGSSA SkillBuilders clinic with host.
There will be food & drinks to purchase at the event.
BBQ are ok but propane only. no open flame. no alcohol permitted, no metal targets & no metal or bi-metal ammunition (ammo will be checked randomly)
Hope to see you all soon....
Ken