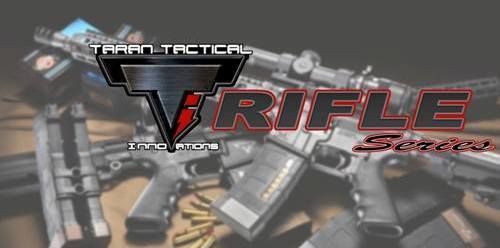 The next Taran Tactical Innovations West Coast Rifle Series
All Rifle
match is happening on Sunday, May 8th, 2016 at the X3 Multigun Range (
www.x3multigun.com
) in Piru, CA (just a short drive away from LA and Ventura). This match will feature six stages of rifle fun combining speed and accuracy with targets that range from CQB inside of 35 yards to longer range targets from 100-400 yards.
Registration and Squadding is now open here: https://practiscore.com/x3-tti-rifle-may-2016/register
All you need is you, your rifle, enough magazines for 40-60 rounds per stage, and around 250-300 rounds of ammunition. Signups start at 730am, there is a mandatory shooters meeting at 830am, and shooting starts at 9am sharp! If you want to squad with your friends, you had better get there early as the squads filled up very quickly at the last match. Match fees for the event will be $30 for DWB and X3 members and $40 for non-members.
New Safety Requirements:
All rifles must have a safety/chamber flag installed when not on the line.
All rifles must be bagged or cased when transported between your car to the stages as well as between stages.
We will have chamber flags from Plug'r and Arredando as well as bags from JAG Precision available at the match for purchase as well.
Divisions:
Heavy Metal
CA 10-Round
Tactical Irons (Limited - No Magnification - RDS allowed)
Tactical Optics (Tactical Scope - 1 magnified optic allowed + secondary iron sights)
Open (Multiple electronic optics allowed)
Rules are based off of the USPSA Multigun Rules (
http://www.uspsa.org/uspsa-rules.php
)
Scoring is basic Time-Plus. All IPSC paper targets require one "A" hit or two hits anywhere else to neutralize. All steel targets must be hit to be neutralized. The rifle spinner must spin 360-degrees to be neutralized. Penalties are assessed for a single "C" or "D" zone hit (+5s), no-shoot hits - max 2 per target (+5s), failure to neutralize (target engaged-no hits) (+10s), failure to engage (+15s), and failure to complete an obstacle like a rifle spinner (+60) - although this last one won't be in every match. The long range steel on the hill (200+ yards) will now be designated as Enhanced Penalty Targets and a failure to neutralize any of those will be a +20s penalty.
For more information, follow us on Facebook @TTIRIFLESERIES https://www.facebook.com/TTIRIFLESERIES
Need ammo? We have reloaded ammunition for sale at every match at very reasonable prices. Contact Sam Houston at 714-329-6484 or samhouston@deadwoodboys.org for more info. Pricing is available here: http://dbcartridge.com/ Due to strong demand, all ammo orders must be placed prior to the match.
Never shot your rifle in a match before? This is a great place to break away from the bench rest and enjoy shooting a fun, safe, and dynamic environment. Just let us know that it is your first time out and we'll make sure that you get on a squad with someone that will make sure you understand the rules and shoot the course of fire safely.
Make sure to bring your own food and drinks to the range as there will not be any available on site.
2016 Match Schedule:
May 8, 2016
June 12, 2016
July 10, 2016
August 14, 2016
September 11, 2016
October 9, 2016
December 13, 2016
Range Map: