Maruzen aps2 -$550
Bell and Carlson stock modified to fit this gun
First Factory zero trigger
First Factory Bolt handle
First Factory Teflon cylinder
First Factory Aero chamber
First Factory cylinder, piston, piston head, spring guide, and spring
First Factory Fluted Barrel
First Factory light weight teflon coated reciever
Systema Tight bore barrel
Harris Bipod
Tasco 3-9x 40mm scope with king arms sunshade
Comes with 2 magazine, at least 1.5 boxes of maruzen .29 sgm bb's, multiple springs for different velocities, and as many of the original parts that I can find. Shoots just under 500fps with a .29, but I have many different springs to tone it down or up.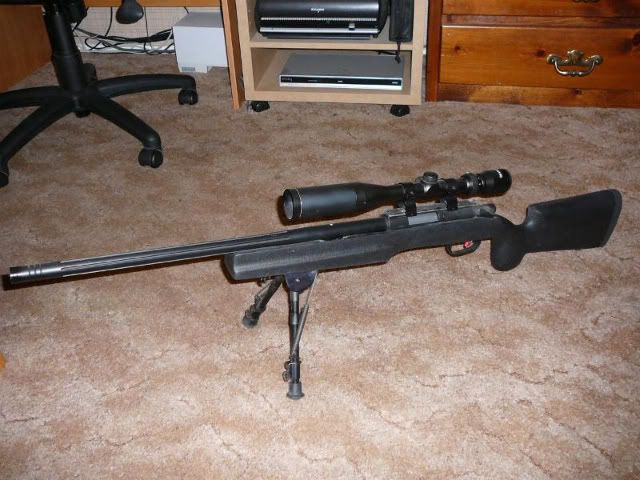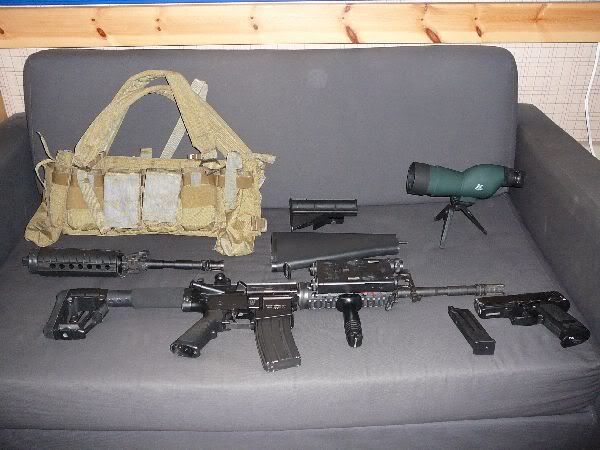 Left to right:
Eagle Industries Universal Chest Rig in Khaki
SOLD
TM Collapsible Stock
$5
TM Full Stock with all hardware
SOLD
NcStar 20-40x Spotting scope with bipod and carrying case
$15
Classic Army complete forend
SOLD
KWA USPc, broken trigger, otherwise works fine, comes with 2 mags, one leaks
SOLD
TM M4: Comes with Hurricane SR16 metal body, G&G sopmod stock, TM RIS, G&P 10.8v 3300 mah peq (in amazing condition), one TM mag and as many star mags as I can find (at least 5). Systema hop up chamber, EG1000 motor, Vortext flash hider, TM flip up BUIS, internally stock sans an m100. Shoots well and in good condition. Missing the little metal pin that sits above the trigger and the metal body has a small crack that has been jb welded near the front of the metal body. Also missing charging handle spring. Used as a loaner gun and works great.
$210!!!!!!
(Pictured with aimpoint in 2nd picture, this is not included)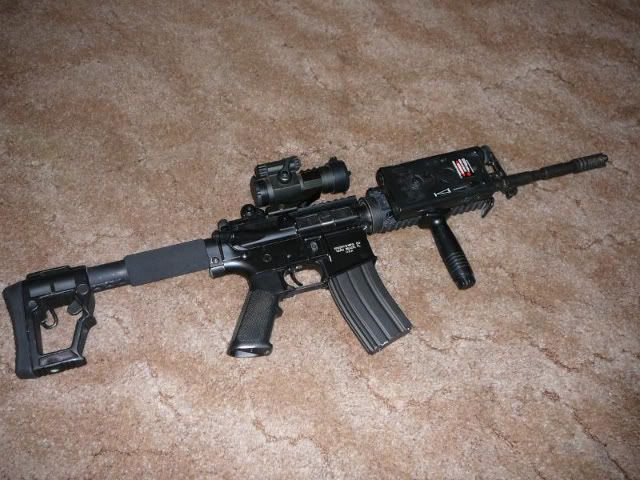 Diamondback Tactical OD double m4 pouches (2x2) each pouch holds 4 mags. Great condition, made in USA.
$15 each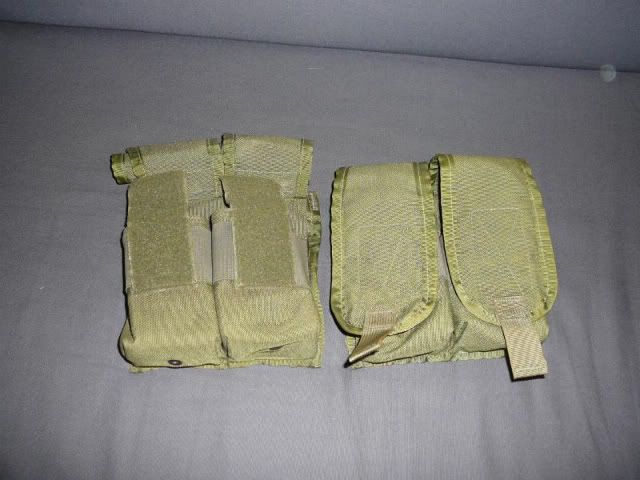 Located in San Diego and can meet up accordingly or will ship at buyers expense, I accept paypal but buyer pays all applicable fees. Everything sold as-is.
Trades: Reloadable .223/7.62x39, leupold mark ar, magpul stuff, any firearms/parts/accessories really, just send me an offer, worst I can say is no.