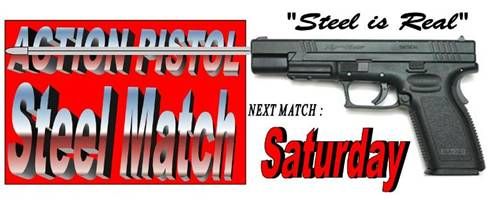 Happy New Year Everyone! The first Deadwood Boys Piru Action Pistol match of 2013 is coming up this Saturday, January 12th, 2013.
What do you need?
You, your handgun (.380 or better), and 300 rounds of ammo. Match fees are $20 for Deadwood Boys or X3 members and $30 for non-members. Remember:
YOU DO NOT NEED TO STOP AT THE PUBLIC RANGE TO PAY RANGE FEES IF YOU ARE ATTENDING A MATCH
Just do it.
For more information go here:
http://www.deadwoodboys.org/
and if you have any questions please feel free to post them up.
New to competition shooting or Deadwood Boys matches? Well, come on out, we are super noob friendly and will walk you through the course. Ask around, no better place to be an FNG.
This event is growing every month as more and more shooters spread the word. You will be hard-pressed to find a more fun match around. Just ask m2oore here on CalGuns. He came out for the first time last month and had a blast.
So, make plans, check the website for directions, come on out on Sat. and meet the gang.
Please note: Our amazing chef will not be able to make this match so make sure to bring your own food/snacks/drinks. If I can get myself out of bed early enough I might bring a little something for breakfast again.
Here is the Weather Forecast for Saturday: