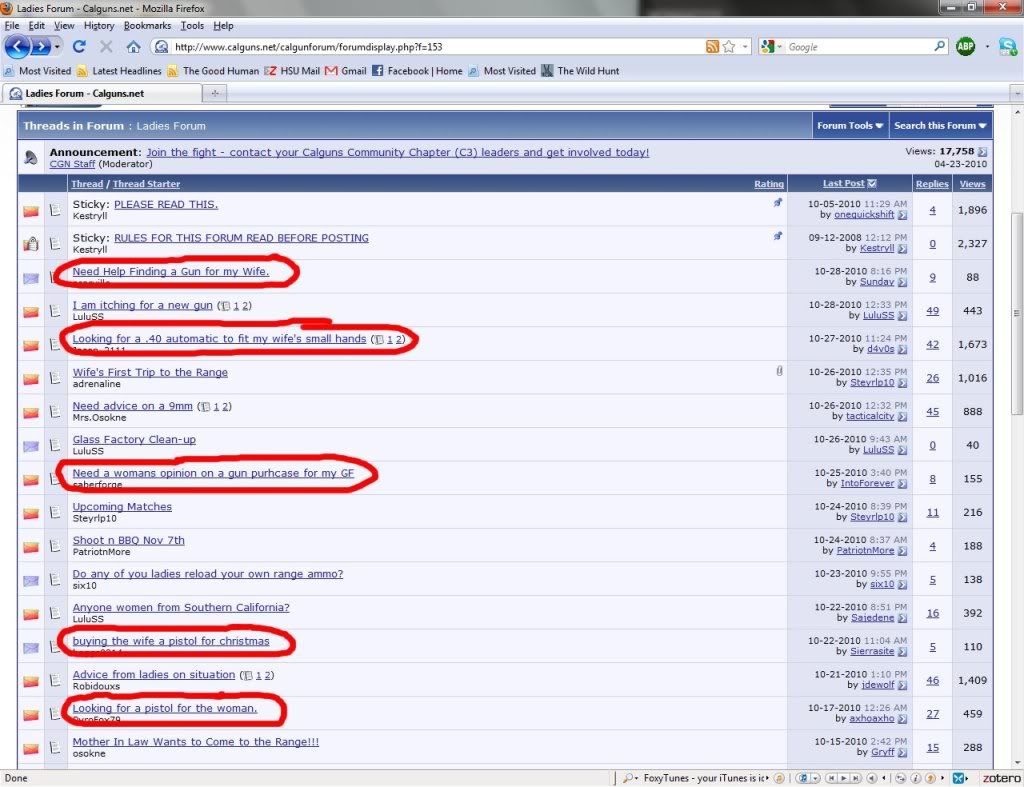 This is a screenshot of the top threads in the Ladies' Forum right now. Notice anything?
Folks, when you are in the market for a gun, I am 99.5% certain that you
always
prefer to choose it
yourself
. Firearms are very individual instruments. There are a great many makes and models, all of which are different from each other, often in
very
subtle ways. If, for some reason, someone were to choose a gun for you, chances are very high that they would not choose the precise make and model you
really
wanted. You'd stand a very good chance of thinking "Boy, I just wish I had _______ instead," in the back of your mind, whenever you used the gun at all, and it'd subtract significantly from your enjoyment of the weapon. Even if the gun was a gift, free to you, chances are you'd eventually go through a lot of trouble to sell it, and buy the one
you
wanted.
Good folk of Calguns, if a woman close to you is trying to decide which gun to buy, or which gun she'd like best to recieve as a gift, and you'd like to help her make that choice, there's something you can do that's
much
better than asking about it for her in the Ladies' Forum:
Send her here to the Ladies' Forum so she can ask for herself!
Think about it! Like I said, you'd definitely prefer to choose your own gun over having someone else choose for you. Only
you
can
prevent forest fires
know which gun looks, feels, and shoots just right for you! A woman is no different from a man in this respect. Credit her with the ability to determine what she prefers, and let her come here
herself
so that she can ask about the features that most interest
her,
the concerns
she
has about recoil with this or that cartridge, whether
she
will be more suited to a Smith & Wesson or a Taurus, whether
she
wants a single- or a double-stacked magazine.
After all, it'll be her gun.
And you don't have to take my word for it. After all, I'm not even a woman. But
Kathy Jackson and Jennie van Tuyl
are:
Quote:
Originally Posted by Kathy Jackson
"My husband bought me my first gun," says Jennie van Tuyl, a gun shop owner in Washington. "He tried to research which guns had smaller grips for me. We learned the hard way that one needs to be involved in the shopping for her own gun. I decided I needed a gun that fit my hand better and was easier to conceal."