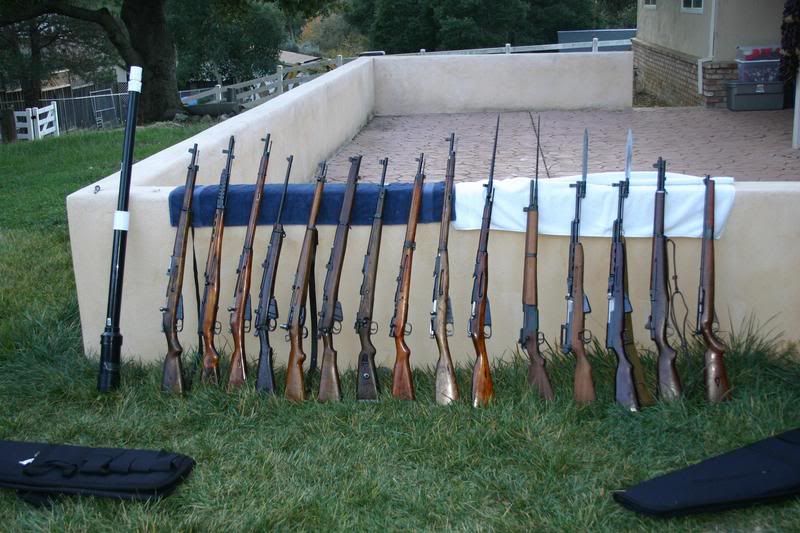 From left to right without looking at notes:
A perfectly legal linear accelerator, model "Bertha". No pistol grip or flash suppressor on that bad boy.
1896/1945 Sestrotretsk/Sako M39
1941 Tula SVT-40 researsenaled with some Izvhesk parts and an AVT stock
1943 Izvhesk 91/30, rearsenaled after the war.
1916 Enfield SMLE, I didn't sporterize it. Pristine bore but I still need to restore it.
1942? (or 1944, can't remember) K31 w/ arsenal tag. I have yet to fire it.
1942 Lithgow SMLE
1943 DOU K98, a great shooter and one of my most accurate milsurps that I have actually fired.
Unknown year Type 99 Kokura Arsenal. I forget the series, but it's in the 20s.
1933 Tula 91/30, Finnish Capture.
1944 Izvhesk M44 Carbine.
Post-war (series is FG, not sure the exact date) French MAS 36. Yet to fire it.
Yugoslavian M59 'simonov pattern'. Picked this up from wellfedirishman. A very accurate SKS. It has tech sights and a rail mount on a different receiver cover. Also came with an assortment of goodies.
1952 (sheesh, can't even remember the year) Tula SKS. I had to file down the gas tube lever myself to stop it from popping up. It works, ha.
Prize of my possesion, Late 1944/Early 1945 M1 Garand which was rearsenaled. This was from the highest CMP grade four years ago. My most accurate milsurp I have fired. If I do my part in can shoot groups the size of nickels and quarters at 100 yards. I've got a few bad habits and my M1 lets me KNOW when I'VE screwed up.
Late 1930s Mossberg 151b, .22 LR. Picked this up also from wellfedirishman. Still waiting for a long range session with it.