I just happened to see one of these for sale in the components for sale ads, and wondered what it was about, because I really hate sitting at my press de-capping brass. I ended up buying one, and was impressed by it's quality and simplicity.
[IMG]
[/IMG]
What I did not like was the pin had no guide for the brass, so you had to fish around a bit to find the flash hole. So I got to thinking, what if my RCBS guides for the flash hole cutter would fit?
[IMG]
[/IMG]
It turns out that the pin shaft on the Harvey tool and the RCBS flash hole cutter are the same size, within .001". The result is that it guides the brass into place, and as long as the brass isn't bent, it guides it into place easily.
[IMG]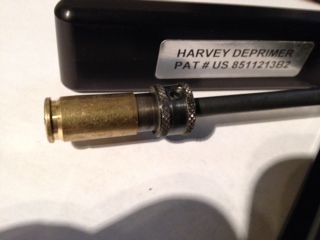 [/IMG]
I did have to take a tiny bit off the guide to make it an easy slip fit for the brass, but I sat in front of my TV watching football, instead of staring at my press, all while relaxing on my couch.