If you have a post-tensioned slab, you cannot drill straight into it to bolt down your safe.
I need to be clear that you should never, ever, ever, ever drill a PT slab on your own. You risk serious injury, death and structural compromise. No rational contractor will advise you to drill a PT slab without GPR or x-ray, and that costs much more than this project.
However, you can still bolt it down using this simple do-it-yourself primer.
At each step, double check all your measurements, making sure that things are square, level and right.
It is very hard to undo mistakes, so get it right the first time.
First, how can I tell if I have a PT slab?
LET ME BE CLEAR, If you are not sure that you have a PT slab, stop. Ask a professional before you drill.
NEVER EVER DRILL A PT SLAB.
I CANNOT STRESS THIS ENOUGH. Do not rely on your slab being stamped. Many are marked in the garage, and many are not. You can look at the outside of your slab if you are not sure. There will be grouted holes 3 to 4 inches in diameter every 3 feet or so. The best way to tell if you have a PT slab is to look for these holes, and look at a side where there is no concrete poured next to the foundation and the top 12in of the slab are visible.
Do not rely on the slab being stamped as PT.
If you think you might have a PT slab and don't want to ask a pro, then assume it is a PT slab.
I took these photos for two reasons. One is to help you guys. Two, if I ever have questions on what is underneath this slab, I have proof I never drilled it. If I were you, I would document this project as a CYA.
Step 1:
Go to USPS and pick up a change of address packet. This has a coupon for 10% off your entire purchase at Lowe's. Home Depot will also take this coupon. You can save 10% on your safe and everything else, so buy everything you need in one swoop. The coupon used to be instant, but some now apparently require registration and take a few days to arrive via email.

Step 2:
Plan your shopping list.
Here are the things I used for this project:
2x6 for forms
2x4 to screed
Sakrete
Portland cement
#4 rebar
Wedge anchors 5/8 - 6in
concrete edge and finishing tools
Skilsaw w/ wood and masonry blades
Sawzall w/ metal blade
Drill w/ Phillips driver, 3/4 Metal bit, 5/8 Masonry bit
Wheelbarrow
Sika LatexR Concrete Adhesive
Level
Wedges to level
Doobie blocks
3 in screws or concrete form nails
Respirator
Safety glasses
Extension cord
Then go to Home Depot (they have more of this stuff) or Lowe's and buy everything you need. Remember, you can buy your safe at the same time and get 10% off with the coupon.
Step 3:
You'll want a diagram of the anchor hole dimensions of your safe if you are ordering it like me. I called AMSEC and the emailed me a diagram of their HS safes in a few minutes. If you buy it at HD, you can just measure it. You will want to sketch out the dimensions of your new housekeeping pad. I sketched mine out several times to get an idea of where I wanted it. My new safe is 40w by 26d. I made my slab 45x30 because those are great calibers, and because you want to be 4-6in larger than your safe. I"d go larger, but that would extend too far into my garage. Anyway, just sketch out what works for you. I went through a few different sketches before I figured out how large I could go and not be intruding on too much garage space. The bigger you can go, the better, but everything in life is a compromise.
Step 4:
Once you have your area sketched out, you need to scuff the slab. This will allow the new concrete to better adhere to the old stuff.
Before you start,
you NEED a respirator
. This step will create a ton of concrete dust, so empty out the garage and cover what you can. Then, eyes, ears and respirator on.
I used a masonry blade on my Skilsaw and a FatMax Fubar to do the job. I gouged the slab with the Fubar and dragged the masonry blade at a 45 degree setting across the concrete. Ideally you want to scuff the entire area of the slab, but I wound up going a few inches less than that. Remember, you just need to scuff the surface, not go deep. You can also use an angle grinder to scuff up the slab.
Once the slab is scuffed up, make sure and get it cleaned off. Dust will severely weaken the bond, so get it as dust free as you can.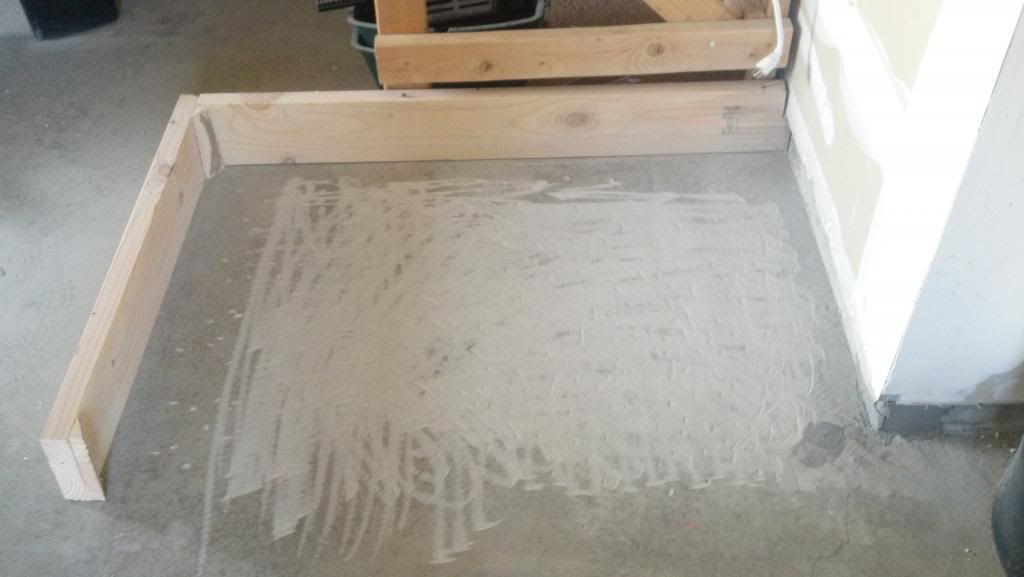 Step 5:
Once you have the slab scuffed, you can set your forms. I won't go into how to do this as there is a ton of info out there on it, but just make sure that you have them level and secure. I secured mine to a workbench and then directly to the wall. A proper slab will not be perfectly level so that water drains out, so don't just set yours on the slab and go. You will need to level it out.
At each step, double check all your measurements. Just reminding you.
Step 6:
Now it is time to put in your rebar. This is where knowing the anchor hole locations is important. Put in the rebar on top of the doobie blocks so that you are certain to avoid the anchor hole locations. THIS IS CRITICAL. Once you are certain that the rebar is nowhere near where you are going to set your anchors, check your forms and your measurements again.