Here is an opportunity to pick up another one of my duplicates with real low round count and again, very accurate. This is the Ruger No. 1s chambered in 300 Win Mag. This fine red pad model features the Ruger Type 2 adjustable trigger and is no longer offered by Ruger in this 1s configuration. This rifle features the option to either use the blade sight with adjustable folding leaf or the Ruger 1/4 rib with Ruger rings and scope. The older red pad 1s configurations are quickly becoming very difficult to find in such fine condition. Truly an opportunity to add a desirable Ruger to your collection as the 26 inch sighted barrels are highly collectible.
I estimate there have been very few rounds (probably less than 50) down the tube by inspection with an internal bore sight. The throat shows minimal wear and the lands & grooves are strong and pronounced.I finally had an opportunity to shoot the rifle and was pleasantly surprised. Best group was .627 using 77 Gr of H450 and a 125 Gr Nosler Ballistic Tip (moly coated)developing a MV of 3243fps. For a little heavier, wind-bucking load you can use 83.5 Gr of Reloader 22 and the 165 Gr Nosler BTIP with MV of 3388fps and a group measuring .493 inches. Properly loaded this rifle can be a tack driver! I did not use any heavier loads or bullets but was told the rifle actually prefers 180 to 200 grain bullets. The two most accurate manufactured loads are Federal Premium Nosler Partition 180 and Federal Premium Sierra GameKing 200. This fine rifle will anchor most any game that walks or crawls in North America or Canada.
As you can see in the photos it has a deeply figured buttstock and forearm. Forearm has a slight crack or grain check on left side where the receiver and barrel meet as shown in the photo. Does not affect performance in any way at all. Metal and bore are 99.9%. This rifle comes with a high quality, Amercian made Redfield 3x9 Scope. Serious inquiries and trades will be considered but prefer cash.
Rifle as shown with period corredt Redfield scope is offered at $895 for quick sale. Again, this is nearly $200 less than current pricing on a new Ruger in 1b configuration without a scope!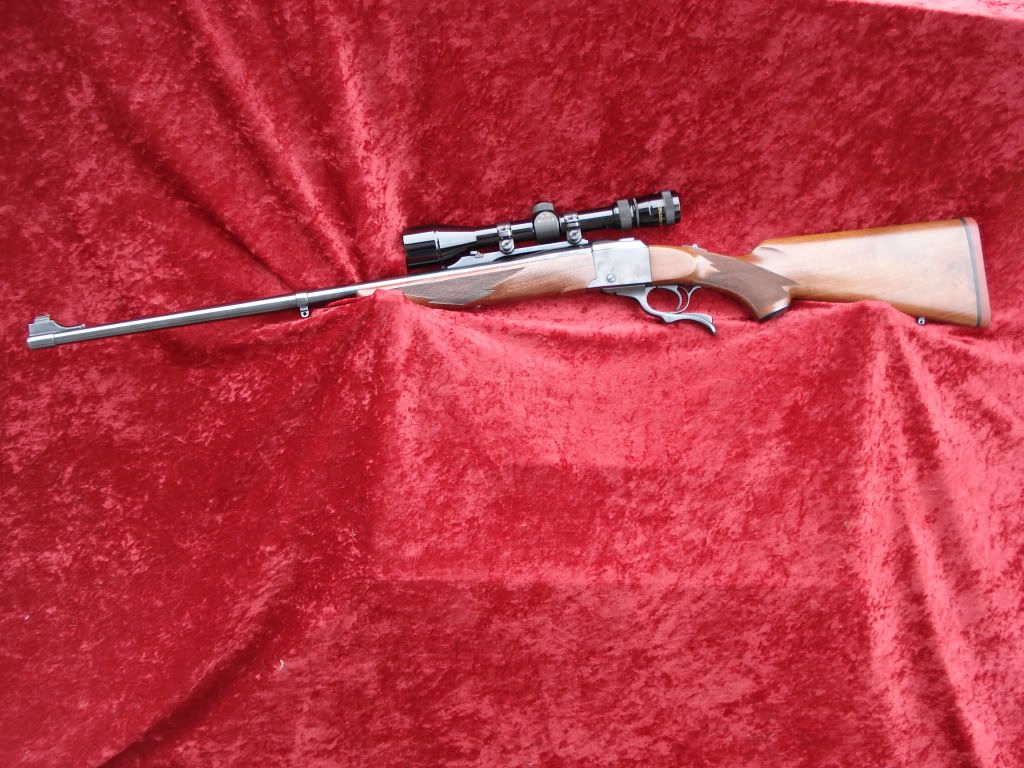 Email me at ruger1vprodigy.net or PM me for more details. This may be offered on other forums as well.
Again, this is a discontinued model in the 1s configuration but still offered by Ruger in the 1b configuration (without sights). Here is some of closest information on the rifle's specifications as published by Ruger:
Caliber: .300 Win. Mag.
Capacity: 1 Round
Finish: Blued
Stock: American Walnut
Barrel Length: 26"
Groove: 6
Twist: 1:10" RH
Overall Length: 42 1/2"
Weight: 8 1/4 lbs
California Approved: N/A
Massachusetts Approved: N/A
Front Sight(s): Blade
Rear Sight(s): Adjustable
Other Features: Sliding Tang Safety
Suggested Retail Price: $ 1186.00 (Estimated based on 1s models)
Miscellaneous: Discontinued Model (Still offered in 1b standard)