Hello Shooters-
The best rifle stock in the world just got better!
I'm proud to announce our new product, VIPERSKINS are now available! They are pistol grip upgraded skins (stock sides) for the Accuracy International Chassis System (AICS).
We at Victor Company are big fans of Accuracy International products, they are the best rifle gear money can buy so our company specializes in creating upgrades for their systems. The AICS is metal chassis covered with a thumbhole gripped skins, which many shooters find uncomfortable and awkward to hold. So we took the AICS to the next level by adding a grippy pistol grip, broader forestock and more ergonomic rear stock.
ViperSkins are the ultimate upgrade for your AICS, made out of a military grade polymer which can stand up the heat an impacts of real world military operations or simple trips to the range. They weigh about the same as the original AICS skins and have a more aggressive toothy feel to the finish.
The ergonomics of ViperSkins is undeniable, once you wrap your hand around the tactile rubber pistol grip, you will undertand what you've been missing from your old thumbhole AICS.
The first batch of ViperSkins will all come in BLACK made for the SHORT ACTION AICS- both in RIGHT or LEFT HANDED - 2.0 FOLDING and 1.5 NON-FOLDING versions. Other colors and long action ViperSkins may be available at a later date.
At this time, VIperSkins fit only for SHORT ACTION AICS. AIAW/AE versions coming soon!
Our introductory price is $199.99 (not including shipping). We will also be offering optional picatinny rails which will mount on the forestock.
Please let me know if you have any questions.
Enjoy,
Michael Victor
Victor Company USA
http://www.victorcompanyusa.com
MADE IN THE USA!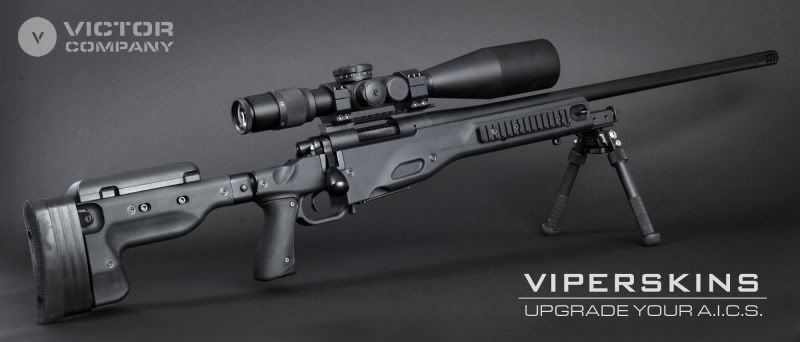 Victor Company USA has engineered the first AICS replacement skins / stock sides for your Accuracy International Chassis System. Featuring a pistol grip, widened forend and optional forward picatinny rails for easy mounting of laser designators / visable and IR illuminators.
ViperSkins are available in our Tactical Black color for all right and left-handed, short action 1.5 and 2.0 AICS stocks.
Note: Minor gunsmithing required for 1.5 non folding ViperSkins.
FEATURES AND BENEFITS
Widened Fore-end
: Gives a more stable shooting platform when shooting off barricades.
Offhand Palmswell
: Gives your offhand a proper grip your hand when shooting in any offhand position.
Pistol grip
: Our standard grip gives you a grippy, non-slip, ergonomic hold. Puts your hand in the proper position to make accurate shots and keep the weapon under your control.
Fast action thumb shelf
: The ViperSkins Fast Action Thumb Shelf gives you a positive index point for quick bolt manipulation and repeat shots.
Rear Stock
: Ergonomically designed to accommodate any sized hand, giving you the ability to acquire targets quickly and smoothly with the least amount of repositioning.
Texture
: The medium toothed texture has been designed to give a good grip in wet and dry environments.
Material
: A durable military grade polymer composite has just enough flex to resist hard impacts with a hardness to defend against scratching and chemical deterioration.
Optional Picatinny Rails
: Allows you to mount forward illuminators, IR, sling mounts.
http://www.victorcompanyusa.com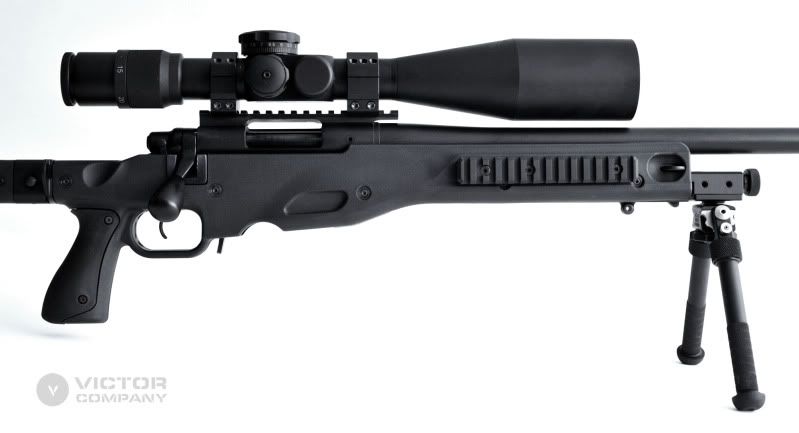 Without the picatinny rails...