Marathon 12+ hour small-unit leadership evaluation to include multiple live fire, fire and movement events to be held on 21 December 2012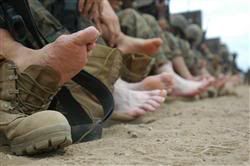 Small Unit Leadership Evaluation (SULE) [Soo-lee]
The Concept of Operation:
* A rigorous crucible based around a 4-6 person fire team.
*Each of the members gets to lead at least once as the Fire Team Leader.
*Each leader is issued a mission and aided in the mission planning by a veteran Marine infantry officer and/or Staff Non-Commissioned Officer or NCO
*Once the mission order is planned and rehearsed it is presented before the rest of the team.
*Each mission climaxes in a live fire, fire and movement course of fire that is rehearsed and supervised for safety.
*Once the mission is complete, the Fire Team is led back to an "Assembly Area" and a new Fire Team Leader is appointed for the next mission.
*After action evaluation and feed back by a mentor, a veteran Marine infantry officer or Staff NCO.
*Multiple classes in the beginning for your education and safety; small unit tactics, emergency medicine/first aid, order processing and issuance.
*A lot of walking; mole skin will be necessary.
*A lot of exertion; you will need to be in good cardio-vascular condition with the blessing from your doctor. You will need to pound Gatorade throughout the trial.
*A lot of shooting; pushing your situational awareness, firearms skills, firearms and equipment to the maximum.
*Bag punching mixed in throughout to simulate hand-to-hand combat.
*Your ability to lead and follow will be strengthened under the stress of less-peaceful conditions.
*Two first-aid responders on scene during the entire event.
*
21 December 2012
*Location at Angeles Shooting Range due to rugged terrain and easier access to night shooting.
*The thumbnail gear list: rifle, pistol optional, firearms supporting gear, load bearing equipment (chest rig, vest, harness, plate carrier, etc.), day/assault pack, cap, cold weather gear, weapons cleaning gear, pen/pencil, notepad, hydration source (camel, canteen, water bottles, etc.), good boots (broken in), cargo pants, long sleeve shirt (no camouflage clothing during the day) and intestinal fortitude.
*Rifle ammunition: ~1000 rounds. 22 LR is acceptable.
* 550 cord, duct tape, two-way radios, lunch, dinner and other consumable items provided. Load bearing equipment loaners available.
*Prerequisites: Rifle/Carbine 202, Low-Light/Night Tactics 101 and Combined Arms & Tactics (CAT) 303 by St. Crispian. Other schools offer an RC 202 and Low Light 101 equivalent which can be honored. No one else offers CAT 303.
*Also for a reduced rate you can attend the academic portions of this training, observe, and learn if this interests you.
(ASR) SULE: Friday, 21 December 2012
Full 14-hour course: 8:00 am - 10:00 pm $375.00
Half course (day operations only): 8:00 am – 5:00 pm $200.00
Executive/Academic Option (No live fire or team participation): $75.00
If this sounds like it is for you please contact me.
For more information about me and my firearms courses please go to
http://www.stcrispian.com