All Sold or Withdrawn, I'm out of California Now! I may post some things on Calguns, if I find it useful and the transfer/shipping worth the trouble
The rest is now history!~
.................................................. ..................
Once more, for all items below, I'm in Berkeley, California, and I'm not moving, and I'm not shipping. (actually, I did move, but to Florida
)
AR-15, one rifle
, configured either as regular carbine ("assault rifle") that will have to be registered as such next year (2017) or as "featureless" semiautomatic rifle with detachable magazine of 10 rounds, legal to keep and transfer next year, but not to modify back to "assault rifle" features, which will be construed as "manufacturing an assault rifle" a punishable offense.
PLEASE NOTE
that I'm not an attorney, don't give legal advice, I can only tell you my understanding of these new laws, if you want/need more precise legal advice, read the laws and/or consult an attorney. Then it will be up to you what you want to do, register with an "assault rifle" or keep it featureless and don't have to do anything other than normal transfer. See photos below, same rifle configured in both styles. I can transfer it to you in either configuration
(now only feature-less!)
and you can keep the rest of the parts for when these laws will be declared unconstitutional, if ever! The price for the ONE rifle, with, now, the de-featured configuration, is
$800 $600, cash, firm, last reduction,
costed me more to put it together, but this is it now. This is now for 4 (four) day only, if it doesn't sell here, I ship it.
Other info:
Lower
by Aero Precision - AP 15
Upper
, with rail - YHM (Yankee Hill Machine) simple, no un-jamming lever provision, no eject port flip-down cover installed.
Barrel
, 16" - generic/brand unknown
Muzzle Brake
(muzzle brake and crush washer are in place) NOT a flash hider (one of the "features" that makes an "assault rifle").
Stock
, collapsible - generic (now gone!)
Trigger group
, hammer, etc - generic
[B]"Bullet Button" - generic, standard, over-ridden with magnetic button since it's not needed any longer.
Stock
, "featureless" by Thordsen Customs
Tube Cover
by Thordsen Customs
Quad Rail
grip with rail covers
Scope 4X
by TruGlo w/illuminated reticle red/green w/Lithium battery
Iron Sights
rail mounted at 45 degrees, machined aluminum, brand unknown, flips between peep hole and ghost ring
Magazine Well
extension for quickly inserting the magazine, by RHINO
Magazine
, 10 rd by ASC

If interested to get the rifle in the AR configuration, you need to get it this year (2016! - GONE now!) with time to spare for transfer. Beginning with December 20, 2016, I will only transfer the "featureless" configuration only, The rest of the parts have been disposed of. ALL THIS IS NOW HISTORY, It's November, 2017, so FEATURE-LESS it is! still $800 $600 - Last Reduction
Only available till the 15-th -3 more days and it's shipped!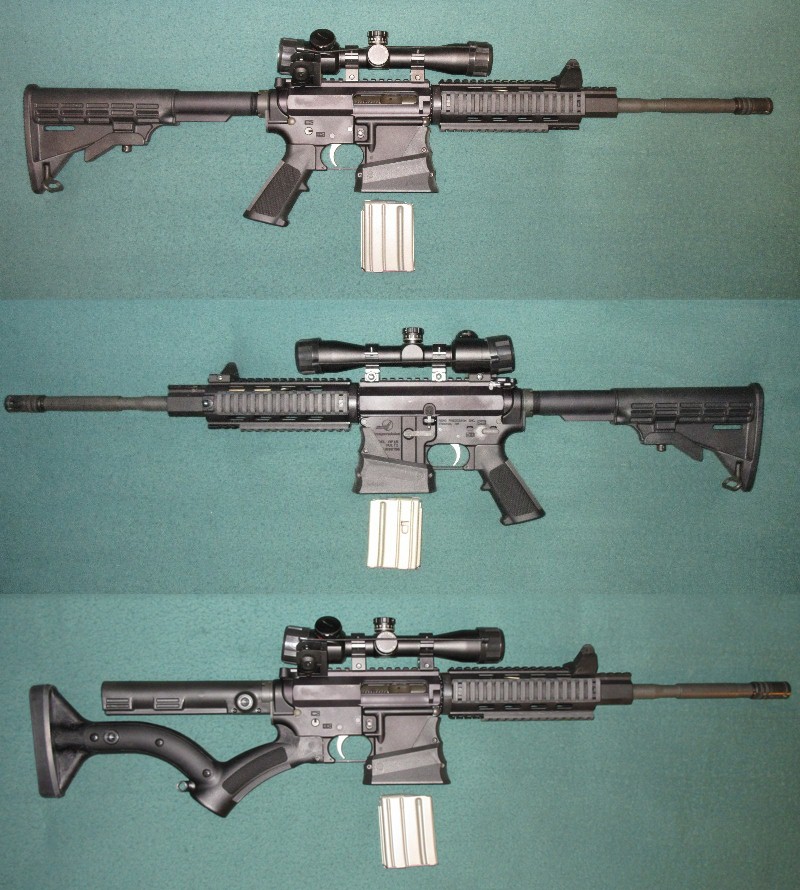 AR-15 Aero Precision (AP 15) w/"Bullet Button"
(now history!)
or Configured "feature-less"
$800 $600, cash,firm - last reduction
.
Also, see this Calguns page/flowchart for reference:
http://www.calguns.net/caawid/flowchart.pdf
Next: Browning White Lightning in 20 Gage, 26" Barrels
(SPF+T)
One of the nicest O/U from Browning, 26 inch barrels, 14 1/2 inch length of pull, Invector Plus chokes, comes with Browning's originals Modified and Full chokes for hunting and two Skeet chokes Pattern Plus by Carlson's of Kansas, and with a nice, green BOYT Signature Series take-down soft case, not shown but you can see a similar one, only in khaki color, on BOYT's site here:
https://shopboytharness.com/product/...s-case-pocket/
. Gun made for Browning by the legendary factory Miroku of Japan. This shotgun has seen very little use, it's tight as a drum, beautiful wood with a couple of minor dings only. Price is
$1,400
$1,300,
(SOLD)
cash only, the price is reduced, firm, I've seen more expensive and less so, this price is closer to the low ones, please don't ask for further reduction. No, it's not a "collector" gun, it's for those that like to shoot quality arms, the uncompromising quality of both Browning and Miroku is your guarantee. It won't sell overnight, but I can wait, and, if it doesn't sell, I can keep it, I have/had many others to sell, as you can see, and I'm actually getting to the bottom of the safe
Browning White Lightning in 20 Gage, 26" Barrels, BOYT Takedown Case Not Shown, $1,300 (SPF+T), cash, firm
Next: Two nice air rifles
, Winchester MOD-427 caliber 5.5/.22, made by Diana in Germany and Walther Force 1000 (1000 FPS) in 1.77 caliber 4.4/.177 >
NOTE
, these are powerful air rifles, not toys, and one needs to be 18 or older to buy one from me, I won't pass them on to a minor, sorry for the inconvenience, if any.
Description and photo below.
The Winchester Mod 427, (SOLD) same as Diana Model 27, made in the 60's, exact year is on the cylinder somewhere under the stock, and I didn't disassemble it. I bought it almost new, surely unused, because it had the rear sight busted, still is. I oiled it and fitted it with a makeshift aluminum leaf-sight, just to adjust it and try it and it works fine. One can make a better sight or find an original, I have the parts of the one that was on it, some parts are made of plastic and one (actually the very support of the sight) has a broken ear. Some screw may be missing. It's an excellent rifle, these aren't being made or imported any longer. It's supposed to shoot at 660 FPS, Price is $200, (SOLD) cash, firm, only because of the rear sight, if complete it would be much more. Send PM if interested, and post "Will take the Winchester Air" if you're sure. Pick up in Berkeley
The Walther is of recent fabrication, comes with original box and 4X32 scope already attached by me - I bought it new from Big 5. I know a fellow that gets wild turkeys with one of these, but, then, he's a trained US Army sharpshooter, and gets them in the head! Comes with original box and papers, price is $110, (SOLD) cash, firm. That's what I paid for it, plus tax, which you don't need to pay. Send PM if interested. Pick up in Berkeley.
Please don't offer less, I can wait, or I can keep them, they're nice to have.
I have an open can of pellets each to give for each rifle, if I find more I'll give you one more each, unopened, but can't guarantee, I had to move my stuff and everything is hidden somewhere.
Both rifles were only used by me to set the sight and scope, I used a couple of phone Yellow Pages books as backdrop or trap, and I can vouch that, by the time I was done with them, the phone books were stone-cold dead!
All joking aside, by the penetration in the phone books I can tell you they'll kill small animals or birds with reasonably good shot placement. Please understand that these are "adult toys" and, if bough for a minor, they need to be used only with adult supervision. They're not to be confused with "BB" guns, they're much more powerful, air pellet rifles.

Winchester MOD-427 and Walther Force 1000 Air Rifles, $200 and $110 Respectively
Still in Berkeley, CA
Please don't answer in the thread, unless it's to say "I'll take it" and whatever it is you're taking, mostly for others to see, we don't see your comment unless we visit the thread. For other answers, offers, advice, observations or snide remarks, please use Private message or E-mail.
Thread comments aren't forwarded by Calguns to our E-mail address, private messages are.
Thank you for reading all this,
Chris
in Berkeley, of course.
.