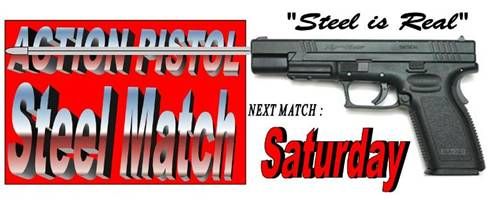 The next Deadwood Boys (Piru) Action Pistol match is coming up Saturday, August 10th, 2013.
What do you need?
You, your handgun (.380 or better), enough magazines for 40 rounds (stages require 25-35 rounds on average), and 200-300 rounds of ammo. Match fees are $20 for Deadwood Boys or X3 members and $30 for non-members. Remember:
YOU DO NOT NEED TO STOP AT THE PUBLIC RANGE TO PAY RANGE FEES IF YOU ARE ATTENDING A MATCH
.

With the ammo shortage and increased cost of ammo we have worked to keep the round count a little lower while still presenting fun and challenging stages. Most stages can now be shot in around 25-35 rounds (assuming you don't miss too much).
For more information go here:
http://www.deadwoodboys.org/
and if you have any questions please feel free to post them up.
We also have a discussion going on about a possible format change and want as much feedback as possible. Check out the thread here:
http://www.calguns.net/calgunforum/s...d.php?t=725241
New to competition shooting or Deadwood Boys matches? Well, come on out, we are super noob friendly and will walk you through the course. Ask around, no better place to be an FNG.
This event is growing every month as more and more shooters are spreading the word. You will be hard-pressed to find a more fun match around.
So, make plans, check the website for directions, come on out on Saturday, and have some fun.
There won't be any food available this weekend so please plan ahead.