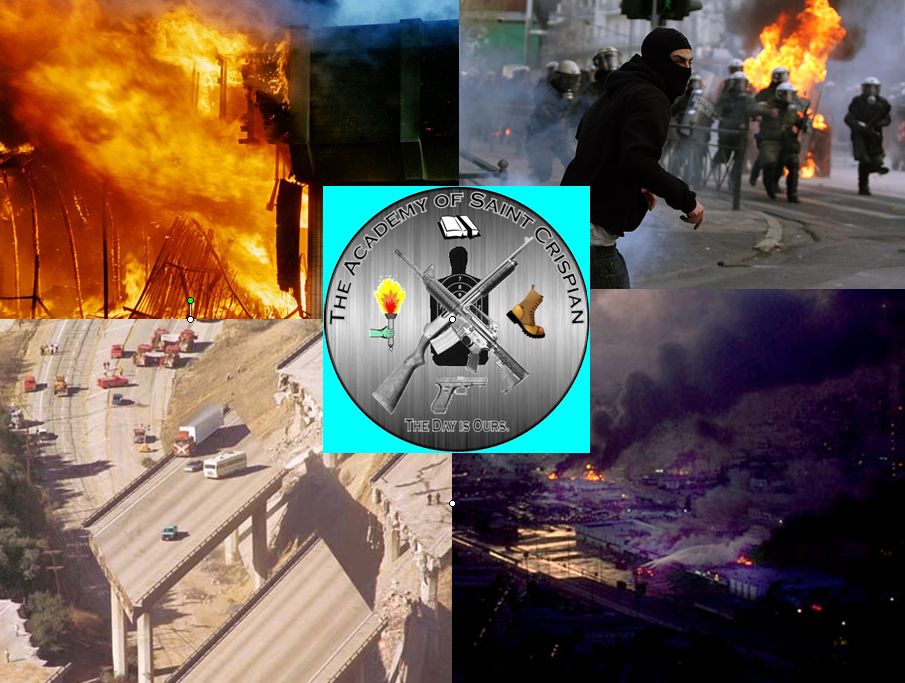 Survival in Hostile Terrain Following catastrophic events (SHTF) Seminar by the Academy of Saint Crispian
A seminar focused on the personal management of likely large scale emergency events in the Southern California region.
Date: Saturday, 17 Aug 2013 @ 8:30 am - 5:30 pm
Place: Angeles Shooting Range Classroom 91342
Price: $50
Bring USB drive/external HD for slideshow.
Topics to include:
*A macroscopic/historical overview of societal changing events.
*Affects of these events.
*Planning process and coordination.
*Routes, terrain and operational terms.
*Logistics: Food, water, supplies, and more.
*Communications.
*Emergency medicine considerations.
*Physical fitness and nutrition.
*Firearms and ammunition considerations.
*Personal equipment: packs (bug out bags) and load bearing equipment.
*Tactics, techniques, technologies, tips and procedures concerning your equipment.
*Gear swap meet (break even or make money on this seminar!)
Knowledge applicable to everyday citizens, military, law enforcement and related to hiking, camping, backpacking, extreme traveling, and more.
Enroll here:
http://www.stcrispian.com/Contact__Enroll.html